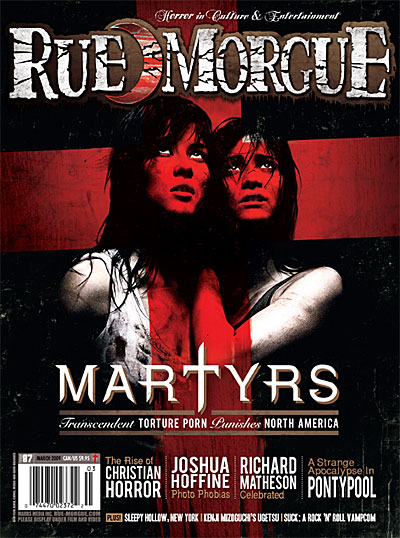 The following article originally appeared on my Facebook profile but the varied discussion, plus the fact that people are

STILL

calling

MARTYRS

torture porn, has moved me
to throw it up here as well.



So I'm cruising through borders today to buy the book

WHERE TH
E WILD THINGS ARE

for my friend's kids cause every child should own it (especially before the new movie comes out). And
I stop to look at the new horror magazines. The new RUE MORGUE had a cover story on the new French horror film

MARTYRS

(See the review elsewhere here for my thoughts on this film)
which I thought was cool. I dig when magazines spotlight foreign or indie horror. But right across the front of the mag is the headline "
Transcendent TORTURE PORN punishes NORTH AMERICA
" written with that exact emphasis and capitals. I immediately just put the magazine back down in disgust.
Come on people it is time to stop with the fucking term
TORTURE PORN
.
Rue Morgue you're better than that. The term
TORTURE PORN
is a lazy bullshit term developed by the American right wing news media at the height of the popularity of the
SAW
and
HOS
TEL
films that was supposed to denigrate the genre. Using it when describing genre movies plays into that mindset and insults not only the movies you are writing about, but the fans and the genre itself. Horror films are
NOT
pornography. Nor are they torture, no matter if that is what they portray. No one is being tortured for real, it is all special effects.
JACKASS
would be closer to something that you might want to call
TORTURE COMEDY
maybe (but I don't even subscribe to that idea).
Tony Timpone
editor of
F
ANGORIA
magazine (who has been at the helm of that mag for over twenty years now. Who is ever the Editor in chief of a magazine for that long?) has said in some recent interviews that he thought the recent French horror film
FRONTIER(S)
was nothing but, wait for it,
TORTURE PORN
. He wrote and editorial 2 years ago slamming the film
CAPTIVITY
(before he even saw it) for being, you got it,
TORTURE PORN
. (Granted
CAPTIVITY
sucks the gas from a dead donkey's ass, but that is beside the point). Now Tony,
FRONTIER(S)
is actually a pretty prime example of the tried and true backwoods massacre/survivalist horror film (
HILLS HAVE EYES, TEXAS CHAINSAW
, ring any bells?) and yes
CAPTIVITY
does cater to the torture elements of some modern horror films, but as bad as it is, it also hearkens back to the sexual obsession type films of the early 70's such as
THE COLLECTOR
or even
PETS
. And guess what? None of those older films are even remotely
TORTURE PORN
!!! (But god yes
CAPTIVITY
sucks)
You want to see some actual
TORTURE PORN
? Then here is some... Try the German series
S
LAVE SEX
from the 80's. Shot on video XXX S+M videos that ran at least into 30 volumes or more that showed things like women hung by their breasts by rope, burned with blow torches, steel skewers and needl
es pushed through their breasts, labia nailed to the table etc. Men with hooks through their penises with buckets hanging off them, their cocks sewn
INTO
their scrotum, pubic hair set on fire, scrotum nailed to boards etc. Or the other famous German underground porn series
FORCED ENTRY
that ran into the 40 volume range that centered on simulated rape and not so simulated torture? Then we can travel to Japan for the
BUSHIDO
tapes that are rumored to have been made by the Yakuza and are pretty much just woman being sexually tortured by heavily tattooed underground mafiosotypes with ropes, hooks, speculum, whips, rods, canes, needles and anything else they can get their hands on. Or what about the
TOSHIHIRO RARE FETISH
series where women are tied up and have various viscous liquids poured into their eyes, nostrils and other orifices and then are covered in cow and pig guts before being sexed up? And I'm not even going to tell you what happens in the
SQUIRM FEST
tapes.
This stuff is actually
TORTURE PORN
. Two things make it fulfill that term. 1) It is actually pornography. The goal for these tapes is to arouse and get the person watching off. There is no plot, no story construction, no characters, no fancy camera work. Just you are there watching this SEXUAL stuff happening for the benefit of the the camera and therefore
YOU
the viewer. And 2) There is actual
TORTURE
going on. Granted the participants are getting paid (at least I would hope so, though some of the shit they go through makes you wonder if they are just repaying some Yakuza debt, or drug habit and sometimes they sincerely don't look like they want to be there. But I'm sure that is all part of the frisson of these as well) and are taking the abuse the same way a boxer would a twelve round fight.) But in the most outright obvious, clear explanation of the term, these are actually
TORTURE PORN
.
Movies like
HOSTEL, SAW, MARTYRS, FRONTIER(S), INSIDE, CAPTIVITY, HAUTE TENSION
, or any other recent horror film are
NOT
. Because not matter how much you may or may not like the material they are
NOT
pornography. No one is in the theater jerking off to them. There
may be a few sickos who do, but then there are lots of sickos who jerk off to
Disney
cartoons too and that doesn't make them Pornography either. The intent of these films is not sexual gratification and release. The intent is to horrify, scare and provide catharsis. To take the viewer on a ride through a series of complex and unpleasant emotions and fears, that by the end will hopefully allow them to release some aggression and terrors. Also the so called
TORTURE
on screen is never under any circumstances real. The violence is acting and special effects. Even a film as questionable as say
MURDER SET PIECES
, where it is arguable that the director is putting the actresses through the paces for his own sexual gratification, is still at the end of the day, phony. These are effects, camera trickery and people acting out scenarios for the service of a story to be viewed by an audience that is here for no other reason but to enjoy a horror movie.
But to call horror films
TORTURE PORN
is to put horror films in the same ghetto as porn. Now I have nothing against porno at all. I watch my share, hell, I even know a porn actor or two. I've nothing against the genre. It is as legit as anything else. But this term is being used to degrade. Porn is generally seen by the public as something bad or to be kept in the shadows and fought against. That it is somehow poisonous to good people. Yet it is a multi-billion dollar industry, so we know the people who say those things are liars. But to label the horror genre with the porn tag is to put it into bed with the porn genre and say it is also something bad, something to be ashamed of. Something unhealthy and evil, that will corrupt the family and normal people of the world. And that is a dangerous precedent to set. The right wing media was setting out to do just that when they started throwing around the term
TORTURE PORN
several years ago. The aim was to scare middle America into thinking horror films were the equal of the hardest most unsettling pornography that were scarring the youth of the nation. The
Bill O'Reilly's
of the world (who openly admitted he had never even seen the movies discussed) was happy to throw the whole horror genre under the bus. Now we have the genre itself walking right out in front of the bus willingly, saying "yep we are
TORTURE PORN
. Our genre is made of
SHIT
and we are gonna keep saying it!"
TORTURE PORN
is a bullshit term made up to hurt the genre and scare idiots who watch too much TV. Lets stop hurting the genre by bandying it around and start being more creative and smarter than those we would like to see the genre fail. Let's stop using the distinctions created by the media that degrade our precious genre and in the process stabbing ourselves in our own hearts.
Andy Copp
Trailer for FRONTIER(S) (this trailer sucks BTW..